Government Security
Inception to 1940
Law Enforcement
1940 to Present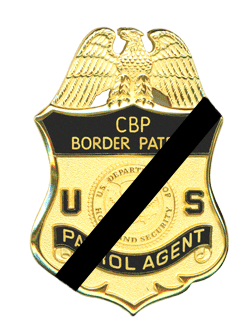 2) Does the U.S. Border Patrol use the Thin Green Line?
Official: NO(1)
Supporters: YES(2)
National Recognition: NO(3)
​
Nationally the U.S. Border Patrol is recognized as a member of the Law Enforcement community and thus is symbolized with the Thin Blue Line.
​
Mounted watchmen of the U.S. Immigration Service patrolled the border in an effort to prevent illegal crossings as early as 1904, but their efforts were irregular and undertaken only when resources permitted. The inspectors, usually called Mounted Guards, operated out of El Paso, Texas. Though they never totaled more than seventy-five, they patrolled as far west as California trying to restrict the flow of illegal Chinese immigration.
​
In March 1915, Congress authorized a separate group of Mounted Guards, often referred to as Mounted Inspectors. Most rode on horseback, but a few operated cars and even boats. Although these inspectors had broader arrest authority, they still largely pursued Chinese immigrants trying to avoid the Chinese exclusion laws. These patrolmen were Immigrant Inspectors, assigned to inspection stations, and could not watch the border at all times. Military troops along the southwest border performed intermittent border patrolling, but this was secondary to "the more serious work of military training." Aliens encountered illegally in the U.S. by the military were directed to the immigration inspection stations. Texas Rangers were also sporadically assigned to patrol duties by the state, and their efforts were noted as "singularly effective."
​
On May 28, 1924, Congress passed the Labor Appropriation Act of 1924, officially establishing the U.S. Border Patrol for the purpose of securing the borders between inspection stations. In 1925 its duties were expanded to patrol the seacoast.
​
The workload and accomplishments of the Patrol remained fairly constant until 1940 when the Immigration Service was moved from the Department of Labor to the Department of Justice. An additional 712 agents and 57 auxiliary personnel brought the force to 1,531 officers. Over 1,400 people were employed by the Border Patrol in law enforcement and civilian positions by the end of WWII. During the war, the Patrol provided tighter control of the border, manned alien detention camps, guarded diplomats, and assisted the U.S. Coast Guard is searching for Axis saboteurs. Aircraft proved extremely effective and became an integral part of operations.
(1) When a U.S. Border Patrol Agent is killed in the Line of duty fellow Agency will use a simple Black Band to honor the fallen.
​
(2) Supporters sometimes use the Thin Green Line to show support for the men and women in the green uniform that stand between the illegal immigrants and the United States.
​
(3) National Law Enforcement Officer Memorial Fund is the leading supporter and identifier using the Thin Blue Line www.nleomf.org